This is a border I created in my Norfolk garden in 2013 against the high brick wall.  It was the only part of the garden in full sun for most of the day and was prone to drying out because of the sandy soil.
As there was lawn and a small border where a path had been before, both were removed and the top layer of grass and roots sliced off.  A generous amount of farmyard manure and compost was dug in to improve the structure of the soil. The grass turfs were stacked and covered in a water permeable membrane so it could rot down over 18 to 24 months and was later used in a greenhouse. Shrubs were added at the back of the border to provide height and provide a backdrop to the flowers.  Perennials formed the majority of plants for their longevity and were chosen for hot colours and drought tolerance.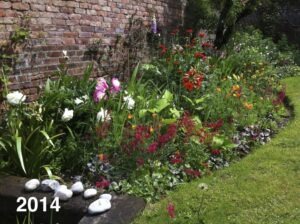 The shrubs were Buddleja colvilei 'Kewensis' that sadly took four years to mature. It was only producing a few pannicles of flowers by the time I moved to Sweden but is hopefully rewarding the new residents. Quicker to grow and flower was a dark red Wigela cultivar originally taken as a cutting by my father in his garden and given to me. There was an existing and very old pear tree at the far end of the border. I grew two clematis against the wall although they preferred to scramble through the shrubs so I planted a third under the pear tree.
The perennials included peonies of white (unknown cultivar) and pink (Paeonia  lactiflora 'Bowl of Beauty') to provide that early summer gorgeousness together with aqualigia, Lychnis chalcedonica and a small lime green euphorbia that just appeared. Later more vibrant colour was provided by Erysium 'Walberton's Fragrant Sunshine' (bright yellow), geraniums, Crocosmia 'Lucifer' (vibrant red) and Crocosmia x crocosmiiflora 'Star Of The East' (orange). In one year I was lucky enough to be given the biennial (see top picture) Echium pininana with its towering stunning blue flower spike. I cultivated the seeds and started many plants that I gave away but also planted in the border. These should have flowered the summer after I left and hopefully provided a wonderful spectacle for the new residents.
To maintain the border, I top-dressed with compost in the spring and mulched around the larger, established plants to suppress weeds. Annual flowers were grown to the front of the border where weeding was easiest.
Save
Save
Save